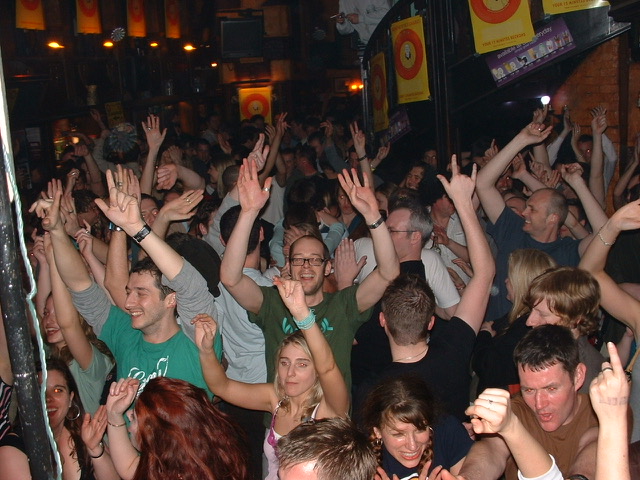 FAQ
All your answers
Q. So how does the night work?
A. The night is split into 15 minute DJ slots. After a warm-up DJ set from one of the SIO crew, our compère/host will introduce the night and pull-a-draw from the 'Bucket of Destiny' to determine the DJ running order for the night, shortly followed by our first DJ set. Each DJ will get up behind the decks don the headphones and will be guided by our helpful technical assistance to cue and play their three/four songs. When DJ no.1 is playing their last song we will have our next DJ poised and ready and will cue them up with their first song. When DJ no.1's last song finishes our compère will jump on the mic and thank DJ no. 1 by their DJ name and also introduce DJ no. 2. We repeat this process throughout the night for each DJ.
Q. I'm not a DJ and haven't got a clue what I'm doing. Is this a night for me?
A. Hell yeah! This is THE night for you. Absolutely no DJ experience is required as technical assistance is on hand to smoothly guide you through your 15 minutes of DJ fame. Stick It On is purely about having fun and enjoying music. We're not looking for bedroom wannabee DJs using this as a platform to demonstrate their mixing skills. This night is about picking and playing songs that you love (whatever music genre) and rocking the dancefloor. No obscure 'B' sides unless it's an absolute banger!
Q. Do I have to provide my own music?
A. It's entirely up to you. We know some people love delving into their vinyl or CD collection and bringing their music with them. However, we'll happily source and supply your music for you if you want us to. We'll ask this question if you get selected.
Q. Can I DJ with a friend or do I have to do it on my own?
A. It's completely up to you! You are welcome to DJ on your own or if a bit of moral support is required then you can come up and do it in pairs or even as a group of three.
Q. How do I submit a DJ set and enter into the draw to play?
A. There are two ways to do this; Option 1is you can pre-register a DJ set via a microsite for the event (Goto the desired event under 'Event' menu above). If you click the 'Apply to DJ' link this will take you to an online form requesting the following information; three/four of your favourite songs, a DJ name you would like to call yourself, an email and phone contact so we can get hold of you after the draw has been pulled. The draw is pulled every Friday in the run-up to the event with the last draw being pulled 4 days before the event. Option 2is that you can submit a DJ set at the event via the SIO mobile web app or via a paper-part version. This option limits you to a pre-determined selection of songs (but the song lists are vast with a great selection of music covering all the music genres). You are asked to pick three songs from these lists, a DJ name and contact details. Once submitted you are also put into a draw and a will be notified via a text message if you get selected.
Q. What songs can I pick for my DJ set?
A. Stick It On loves all types of music and actively rebels against being pigeon-holed into playing just one genre. To us, there are only two types; good and bad music. We are only interested in the good stuff and want our nights to be wonderfully eclectic. Our only request is to pick songs that you love but will be also loved and appreciated by everyone else to ensure there are no tumbleweeds on the dancefloor 🙂