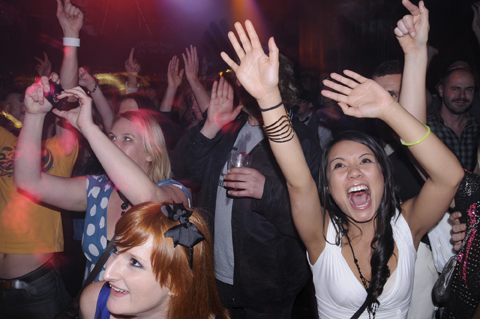 Hire Us
It's easy!
Q. Our guests aren't real DJs and haven't got a clue what they're doing. Can we still get involved?
A. Of course you can! Absolutely no DJ experience is necessary as technical help is on hand to smoothly guide you and your guests through your 15 minutes of fame. Stick It On is about having fun and doesn't take itself too seriously, giving you the chance to rock the house and let everyone else concentrate on the single one most important thing. Enjoying your event.
Q. Do the guests have to provide their own music?
A. No, we'll source and supply all the music for you and your guests.
Q. Can guests DJ with friends or do they have to do it on their own?
A.  It's completely up to them! They are welcome to DJ on their own or if a bit of moral support is required then they can come up and do it pairs or even as a group.
Q. What do you provide within your fee?

A. Within our price we include all the pre-organisation which includes the microsite build and hosting, plus any printing. On the actual day of the event it includes the setting up and running of the Stick It On session by one of our trained professionals. We can also provide extra services, ranging from audio and lighting equipment hire costs (i.e. PA, decks, mixer, disco and ambient lighting), visual equipment (projectors, screens, cameras), trained operators (VJs, sound and lighting engineers), staging and décor. Basically, name your requirement and we'll offer a solution.
Q. Do you have insurance cover and are you PAT tested?

A. Yes. We have public liability insurance up to £10,000,000, products liability insurance up to £10,000,000. All of our equipment has been PAT tested.
Q. What area do you cover?

A. We have provided our Stick It On entertainment service all over the country but we will have to factor the travel cost into our quote.